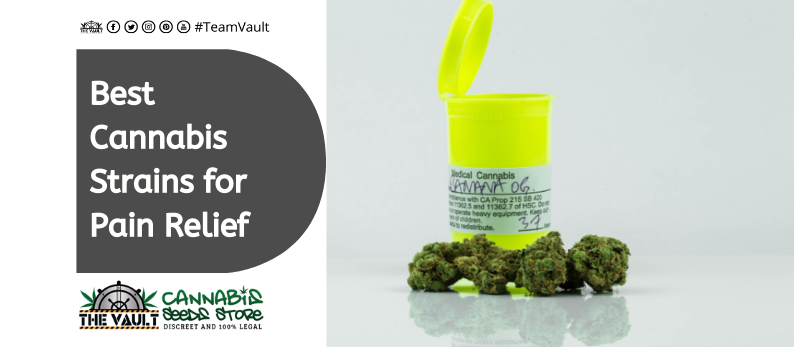 One of the most popular medicinal uses for cannabis is pain relief. Whether it be a chronic issue, PMT, an injury or anything else for that matter, cannabis makes an excellent painkiller. This is often because it actually allows the body to relax, and allows the muscles to soften which can actually help with the cause of pain. Normal painkillers just tend to mask over the pain, rather than help at the source. There are also different pain killers in different situations. For example, a heavy Indica painkilling strain will help someone who struggles to sleep due to their pain. For others, they may need something that allows them to go about their day ignoring the pain and so will need a Sativa. This is a list of just a few of the top pain relief cannabis strains, all of which are great for different issues.
This strain is a Californian Sativa strain that is well known for its amazing yields and potency. She has a THC level of 19 – 20% but is perfect for anyone who doesn't want to be knocked out. The overall effect is calming, relaxing, creative and meditative. This makes it ideal for those who have chronic pain because it completely chills the body and allows it to function well without feeling the same level of pain. This is a perfect day time pain killer as it still allows the user to remain largely lucid. Maybe not to be used before going to work, but definitely if there are chores to do or a project to get on with. Blue Dream was created by combining Blueberry and Super Silver Haze. She can also be used to combat fatigue, stress, and lack of appetite. She has a flowering time of 9 – 10 weeks and can be grown indoors or outdoors.
I felt like this strain basically had to be on the list, and it does just what the name suggests. This strain is a combination of Royal Highness and Juanita La Lagrimosa. This Sativa was explicitly created to be used as a daytime pain killer. She has a low THC level of just 9%, so she can be used without a whole bunch of high side effects. Though the THC is low the CBD level is around 5% or higher. Essentially the physical effect of the strain and the mental effect isn't really linked. The physical effect is relaxing and will dull pain exceptionally well. The small amount of mental effect present is comfortable and happy which also makes it a great anti-anxiety or anti-depressant strain. This strain can grow well indoors or outdoors and takes around 8 weeks to flower.
Bubba Kush is a little different from the last couple of strains, she is definitely for night time use. As an Indica dominant strain, she has a sleepy, relaxing effect that is perfect for those who are struggling to drift off due to pain. The flavour is similar to fresh fruit with a hint of liquorice which goes perfectly with her soothing high. The snoozy aspect of the strain comes with a soft euphoria, so she doesn't just knock out she cuddles. She is often recommended to those suffering from any kind of pain or from insomnia. When growing she produces huge flowers covered in resin. This is great for the yield but does mean growers will have to watch her closely for signs of mould. She can grow indoors or outdoors and flowers in 56 days.
This may not sound like a good strain for pain sufferers, but she is a lot calmer and softer than she sounds. Headbanger is a Sativa dominant strain with a euphoric, uplifting and soothing effect. She is often used by those suffering from anxiety or depression but is also a fantastic day time painkiller. The high comes on quickly and provides almost instant relief. She is also fantastic for headaches and migraines, which considering her name is something close to irony. Headbanger has also won a number of first and second place awards over the years. This strain has a strong citric flavour, specifically lime, and a THC level of around 20%. She has a flowering time of 9 – 11 weeks and can be grown indoors or outdoors.
This is another daytime painkiller but she can also be used in the evening. Since she is an Indica she isn't a huge upper and she won't keep users up at night. She is calm, comfortable and lucid which is perfect for anyone suffering from chronic pain. She is a combination of Super Skunk and Northern Lights, two extremely popular strains. She isn't too psychoactive which makes her great for those who are prone to anxiety. Her relaxation spreads right through the muscles and helps her to work as an anti-inflammatory, perfect for anyone struggling to get through cramps. Shark has a flowering time of 55 days and can be grown indoors or outdoors.
Let's finish with a celebrity from the world of medicinal cannabis. Coogies is a multi-award winner that is best known for its cerebral yet relaxing effect. This strain is often recommended to those suffering from insomnia, stress, anxiety, lack of appetite and IBS but is also a potent painkiller. She is also gorgeous to look at and has a wonderful scent and flavour profile. She gives off whiffs of vanilla, hash and lemon that will make the mouth water. Due to her genetics, a combination of Girl Scout Cookies and Kens OG, she has high levels of THC and is completely covered in crystals. This strain has a flowering time of 9 – 10 weeks and can be grown indoors or outdoors.
As always it is best to research and make sure that we find the best strain for us. Especially when it comes to something as subjective as pain. It is also always a good idea to talk to a doctor if pain continues or worsens.
Remember: It is illegal to germinate cannabis seeds in many countries including the UK. It is our duty to inform you of this fact and to urge you to obey all of your local laws to the letter. The Vault only ever sells or sends out seeds for souvenir, collection or novelty purposes.
Make sure you never miss another Vault promo and sign up for our newsletter at http://goo.gl/Bt2Ba2