[embedded content]
This week's Weed Talk NEWS looks at the upcoming election and what is on the ballot for marijuana voting
As you get ready to vote this week, the Weed Talk NEWS crew sits down and discusses which ballot questions are likely to pass when it comes to marijuana voting in each state and which legalization bill has the best chance to get through the new Senate and House.
Each week Jimmy Young of Pro Cannabis Media, Curt Dalton of Cannabis.net, Deb Borchardt of the Green Market Report, Solomon Israel of Marijuana Business Daily, Phil Adams of Vote Pro Pot Podcast, Ry Russell of WeedBuds, and special guests get together to discuss the week in weed. What happened in the marijuana industry this week with voting coming up on Tuesday? This week, David Rabinovitz of CannaVenture discusses the Massachusetts marijuana scene and how the new delivery licenses for social equity and economic empowerment candidates may be influx. Are there nefarious players moving the chess board in the favor or big retail and established stores? Is someone being influenced now to favor big marijuana shows over smaller SE and EE applicants? Find out and watch this week's episode now!
Weed Talk NEWS is part of the Pro Cannabis Media network of marijuana-themed legalization discussions. Each week the crew produces a news show a series of interviews as well with some of the biggest names in the cannabis industry. Bruce Linton, Joe Lusardi, Tommy Chong, and others have all been part of the Pro Cannabis Media interviews and news shows. To watch other news episodes or the interview series, click on the videos below, on the bottom of the page.
Have a great news idea or want to get on the show, email [email protected] with you news tip and how we can help you report it or bring it to light. Enjoy the show, click the YouTube video at the top of the page or below, ready, click it!
[embedded content]
WATCH MORE EPISODES BELOW…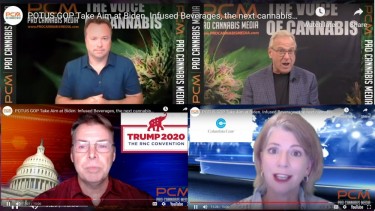 CANNABIS BUSINESS NEWS THIS WEE, SEE STOCK MARKET ACTION!
OR..
BRUCE LINTON TALKS HIS BIGGEST MISTAKE AT CANOPY GROWTH!