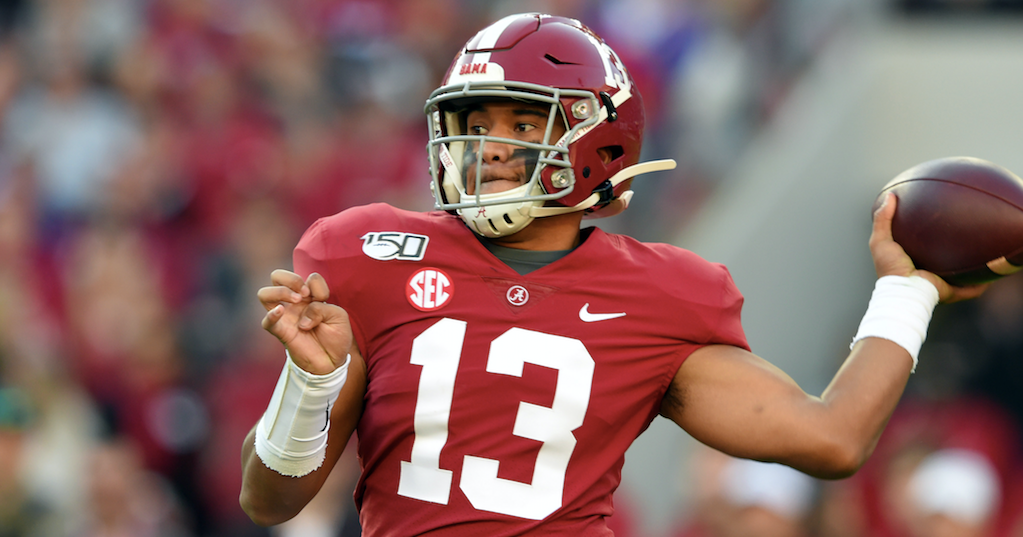 Ryan Fitzpatrick started 13 games last year, his first with the Miami Dolphins. He intends to hold onto the starting job while also preparing the future of the Miami franchise, Tua Tagovailoa.
"I don't know how much time it will be before Tua will be in the lineup," Fitzpatrick said, per ESPN's Cameron Wolfe. "I know that I am the placeholder. We've already had that conversation. I've told him, 'I'm going to do the best I can to lead this team and win football games when I'm out there.' Whenever it is that Tua gets his chance, whether it's early or late or whenever, I'm going to be his biggest cheerleader."
The Dolphins drafted Tagovailoa with the fifth overall pick in the 2020 NFL Draft after a storied career at Alabama in hopes the former Crimson Tide star will turn the tide at quarterback.
Tagovailoa is one of the most decorated and accomplished players in Alabama football history, and due to injuries and a freshman season as a backup, he played less than two full years as the starting quarterback. He currently sits atop several school records, including career scores (96), career passing yards per game (251.0) and career completion percentage (69.3).
Despite the setback that cut his junior campaign short, Tagovailoa threw for 2,840 yards, 33 touchdowns and three interceptions while completing 71.4 percent (180-of-252) of his passes. He averaged 11.3 yards per pass and 315.6 yards per game with a rating of 206.93. The hip injury that sidelined Tagovailoa has healed and he is cleared to begin training camp.
Since arriving at the Dolphins' facility earlier this week, his new teammates have seen the side of Tagovailoa that shines brighter than his stellar on-field talent — his magnetic personality.
"He's a really interesting guy, he's got a lot of energy to him," Fitzpatrick said. "And you can even just tell the guys are gonna gravitate to him, there's just something about him that is very likable and I can already tell that he's going to be one of those guys that gets along with everybody, that guys are going to want to follow. He just has that kind of aura about him.
"Part of it is probably the way that he played (at Alabama) and just kind of the name and the reputation that he's built for himself. But there's not a whole lot of ego involved and he's very likable. The general conversations, whether about football or life, it's been really fun so far."
Did you know BOL has a podcast? The Built By BamaOnLine Podcast brings you the latest Alabama news and insight from Travis Reier, Charlie Potter, Hank South and Tim Watts. Catch the latest episode right here or subscribe on iTunes today!
Contact Charlie Potter by personal message or on Twitter (@Charlie_Potter).