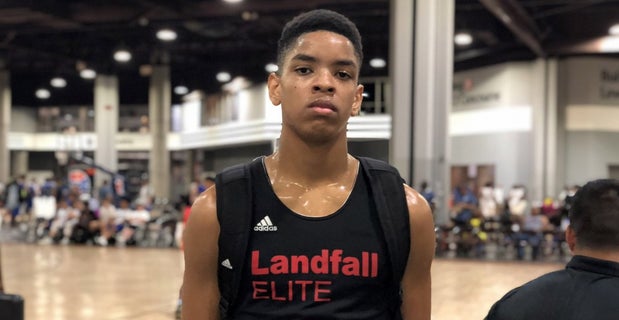 Memphis coach Penny Hardaway and the staff have been pushing hard for class of 2021 forward Josh Minott, and he is now the first player on board for the class. Minott chose the Tigers over offers from Baylor, Florida State, Maryland and Texas among others.
With an impressive offer list and an undeniably smooth game on the floor, Minott finally received a ranking from 247Sports on Thursday.
The St. Andrew's School forward is now ranked as a four-star prospect and the No. 100 overall player in the country. Minott has a very impressive skill set, and it wouldn't be surprising to see him ranked among the top 50 players in the country relatively soon.
At 6-foot-9, Minott has great size, but it's his ball handling and basketball IQ that truly set him apart. When watching his film, it's obvious that Minott is a few steps ahead of everyone else.
"It's always been important for me to work on my shot both mid-range and three-pointers, and I really feel like chilling in the paint is kind of boring," Minott said. "I've worked so many years with ball handling, shooting and passing, so it would really be a waste of time if I didn't showcase it."
Despite his height, Minott has the ability to play the two at the next level because he is that good with the ball in his hands. In college, Minott can likely play the two through the four, which is something Hardaway and the staff love.
Since his time at Memphis, Hardaway has prioritized players with position versatility, and Minott gives Memphis just that.
Memphis assistant coach Cody Toppert has been recruiting Minott heavily, and the two have built a very good relationship up to this point.
"I really enjoyed the professional insight that they have to share, and I've seen the write-outs and the analytics that Coach Toppert has done," Minott said. "He's shared some of the stuff with me that he's done for NBA players, and I've really enjoyed building that relationship with him."