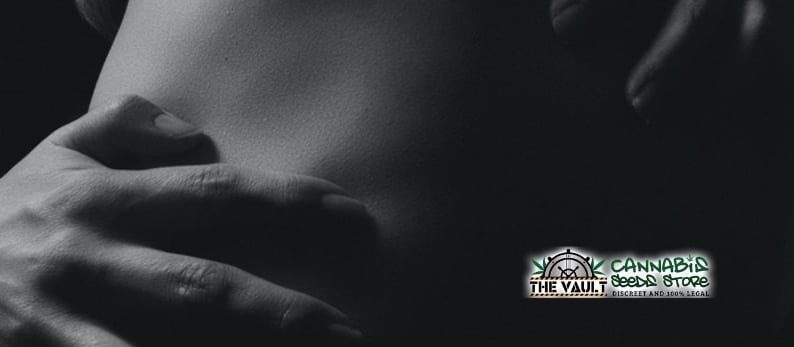 Using drugs to enhance sex is a tradition as old as time, as society has developed the type of drug has changed. Of course, most sex and party drugs tend to tow the ecstasy or MDMA lines. This somewhat leaves cannabis out, with its reputation for sleepy, lazy highs that may not be conducive to excessive hay rolling. However, this is far from being the case. Several cannabis strains come highly recommended for bedroom use. With Valentine's day looming on the horizon and a severe lack of fine dining available, why not try something a little different? This is potentially not recommended for anyone stuck alone in lockdown as you are likely already suffering enough.
CannaSutra
Aptly named this beauty is one of the finest aphrodisiac strains on the market. She is vigorous, high yielding and produces beautiful pink buds covered in a layer of glittering crystals. CannaSutra likes her food, but be careful when watering her as she can be easily overwhelmed. Her effect is described as stimulating, both for body and mind. She is perfect for expanding the imagination and is known to improve bronchial dilation. This essentially means she is medicinally used for those who easily get out of breath. She was created by combining Sensi Star and Reclining Buddha. She produces a medium yield of stunning plants and will take 65 – 70 days to flower.
Wedding Gelato
This cross between Wedding Cake and Gelato 33 is famous for its libido enhancing properties. Wedding Gelato produces a euphoric high that increases sensitivity and relaxes the body. It also lifts the mood and creates soft happiness that permeates every inch of the brain. Many satisfied users have reported an enormous increase in libido after smoking. Not only is this strain extremely stimulating but it also has a rich and mouth-watering flavour profile. There is very little about this strain that isn't sensual, a perfect valentines treat. However, it does have a THC level of 25% so it's a good idea to take things slowly, advice that can be applied to most of the evening. She has a flowering time of 56 – 63 days and can be grown indoors and outdoors.
Sour Diesel
Though she doesn't have the sexiest name she earns her place on this list. Sour Diesel is famous for increasing skin sensitivity and stimulating the nervous system. This is ideal for couples who are considering trying something a little more tantric. Her effect is described as uplifting, relaxing, powerful, and cerebral. She's Sativa dominant and has a THC level of 19%, which is ideal for most mid-level smokers. Sour Diesel also has a medium level of CBD at 1 – 5%. She is medicinally by those who are suffering from depression and stress. Sour Diesel was created by combining Northern Lights, Shiva, Original Diesel, and Hawaiian. You couldn't ask for a finer genetic background. She has a flowering time of 10 – 11 weeks and can be grown indoors or outdoors.
Stitch's Love Potion
Another uplifting and exciting strain that is Sativa dominant. She is another gorgeous strain is soft, velvety, sumptuous leaves and a thick coating of sticky resin. She was explicitly created as an aphrodisiac and creates an exciting giddiness that inevitably leads to frolicking. The high is also very profoundly sensual and produces a skin tingling energy that could easily be mistaken for pure electricity. Her flavour and scent is a combination of juicy and exotic fruits, a mix of peach, mango and strawberry with hints of sweet bubblegum and berries. She has a moderate THC level of 17% which makes her perfect for those less used to weed. She can be grown indoors, outdoors or in a greenhouse and will take 70 – 75 days to flower.
Green Punch
Of course, everyone does it differently, this is for the couple that just wants to create an absolute warzone. Green Punch is normally used by those suffering from severe fatigue or complete lack of drive. When taken to the bedroom this strain provides an insane amount of energy and motivation that may result in some mild muscle pain and dehydration. Her THC level is around 19% so she needs to be taken seriously. Green Punch was created by combining Purple Punch and Green Crack. There is a relaxation to her high as well, ensuring there is no anxiety to taint the proceedings. She has a flowering time of just 56 – 63 days and can be grown indoors or outdoors.
Danky Doodle
Danky Doodle, or Double D, is a libido increasing Sativa dominant strain that is a sensual, relaxing, yet productive strain that is easy to grow. These plants are extremely resistant to mould, pests and fungus. Once again euphoria is a large part of this strain with an almost immediate increase in arousal. The THC level usually reached between 15 and 20%, meaning it can have a seriously heavy effect if not taken carefully. One unique aspect of this strain is that it can be used both pre and post coitally. Beforehand for increased libido and afterwards for a shivering twitching relaxation that leads perfectly into slightly sweaty snoozing. This strain has a flowering time of 9 – 12 weeks and can be grown indoors or outdoors.
Bubble Kush
This finally strain is one for the anxious lovers out there, the new relationships still learning each other. Bubble Kush is a deeply relaxing but still stimulating strain that takes all the trepidation out of sex. It provides a deep bodily stone with a cerebral stimulation that allows partners to truly enjoy and experience each other. Her THC percentage is around 19% so she shouldn't be taken lightly or we could go right past relaxed coital bliss to passed out, limbs akimbo. Not quite as attractive and a good way to end a night. It has an earthy-sweet scent and goes beautifully with lit candles and soft fresh sheets. Bubble Kush flowers in just 7 – 8 weeks and can be grown indoors or outdoors.
Remember: It is illegal to germinate cannabis seeds in many countries including the UK. It is our duty to inform you of this fact and to urge you to obey all of your local laws to the letter. The Vault only ever sells or sends out seeds for souvenir, collection or novelty purposes.
Make sure you never miss another Vault promo and sign up for our newsletter at http://goo.gl/Bt2Ba2